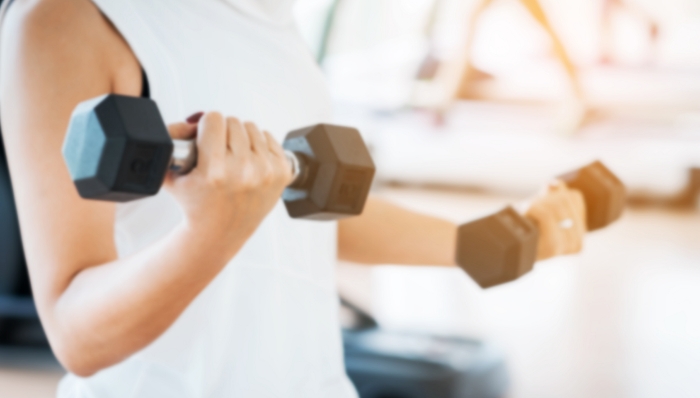 MUSCLE SUPPORT

Enhanced Muscle Health Begins
with SR CARNOSYN®
Flexing Muscle Strength & Function
Formulating with SR CarnoSyn® helps your brand and consumers stay ahead of the game when it comes to muscle strength and function. SR CarnoSyn® is the sustained release beta-alanine supplement that is ideal for supporting one's frame, aiding balance and maintaining strength for everyday activity. Carnosine can also contribute to overall skeletal integrity by directly supporting muscle function. With backed by science claims and research that consumers can trust, SR CarnoSyn® increases carnosine levels in muscle, a powerful antioxidant that supports healthy aging.
Promote Muscle Quality and Function
In this recent study1, SR CarnoSyn® beta-alanine supplementation was proven effective in increasing the muscle carnosine content and showing improvement in exercise abilities. For example, connections between the muscle carnosine content and the relative change in the time-to-exhaustion resulted in enhanced muscle health for healthy aging consumers with SR CarnoSyn® supplementation. After years of science-backed research, it's been shown that SR CarnoSyn® is beneficial for all kinds of activity levels for muscle health because of its unique carnosine buffering characteristics. SR CarnoSyn® has also been proven to support healthy carnosine levels and muscle functions.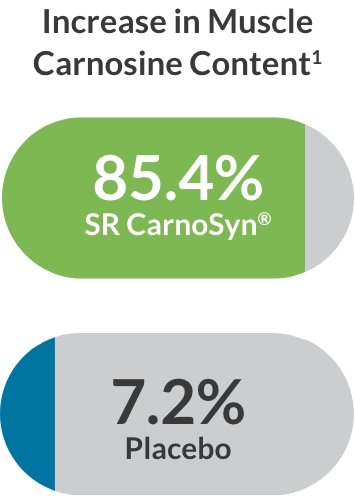 Beta-Alanine Makes All the Difference
SR CarnoSyn® beta-alanine supplementation has been shown to increase skeletal muscle carnosine, delaying the decline in muscle function with aging. In a recent study2, after ninety days of supplementation, improvements in the subjects' physical working capacity were seen as fatigue levels decreased. This research suggests that by improving intracellular pH control, SR CarnoSyn® beta-alanine supplementation subsequently improves muscle endurance.
SR CarnoSyn® beta-alanine:
Improves muscle working capacity
Increases muscle function and carnosine levels
Supports the body through age-related changes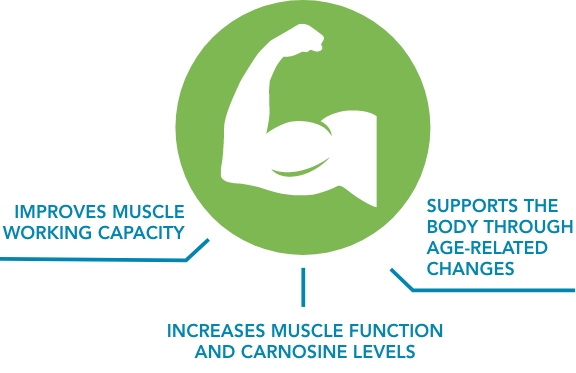 Strengthen Your Next Formulation
Integrate SR CarnoSyn® into your formulation and reach the ever-increasing number of individuals who are looking to build better muscle to support a healthy frame, aid in balance, and maintain strength for everyday activities and their overall quality of life. Creating a second-to-none product portfolio gets you a step closer to helping healthy aging consumers live a well-balanced life.
Protein Supplements3
Historical forecast (from 2021-2028)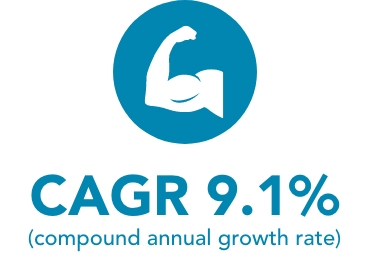 1del Favero S, Roschel H, Solis MY, Hayashi AP, Artioli GG, Otaduy MC, Benatti FB, Harris RC, Wise JA, Leite CC, Pereira RM, de Sá-Pinto AL, Lancha-Junior AH, Gualano B. Beta-alanine (Carnosyn™) supplementation in elderly subjects (60-80 years): effects on muscle carnosine content and physical capacity. Amino Acids. 2012 Jul;43(1):49-56. doi: 10.1007/s00726-011-1190-x. Epub 2011 Dec 6. PMID: 22143432; PMCID: PMC3374124.
2Stout JR, Graves BS, Smith AE, Hartman MJ, Cramer JT, Beck TW, Harris RC. The effect of beta-alanine supplementation on neuromuscular fatigue in elderly (55-92 Years): a double-blind randomized study. J Int Soc Sports Nutr. 2008 Nov 7;5:21. doi: 10.1186/1550-2783-5-21. PMID: 18992136; PMCID: PMC2585553.
3Fortune Business Insights
BACKED BY THE POWER OF SCIENCE
After years of rigorous clinical testing, one of the most science-backed supplements is available for turnkey private labeling and custom formulation from Natural Alternatives International. With an expanding market and increased demand for healthy aging and everyday wellness supplements, SR CarnoSyn® offers a full array of health benefits for today's consumers including brain health & mood support, bone health, heart health, muscle health, immunity support & systemic health.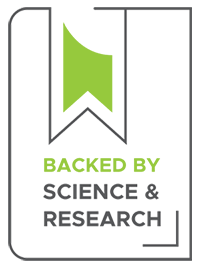 *These statements have not been evaluated by the Food and Drug Administration.
This product is not intended to diagnose, treat, cure or prevent any disease.
Keeping Up With Your Customer
Starts Here.
To learn more or get started, contact us by the form below.